Come and stay at one of the superb lodges that call Lady Evelyn home. These knowledgeable hosts are here to make your retreat the perfect one, ensuring spotless accommodations, delicious home-cooked meals and insight into the tremendous fishing and recreation that abounds. From bait selection to fishing guides, every effort is made to ensure a relaxing and comfortable retreat. FUN is certainly their middle name!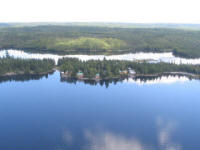 Ellen Island Camp
Ellen Island Camp offers Deluxe Housekeeping Fishing Packages on a 17 acre private island located on the beautiful unspoiled waters of Lady Evelyn Lake. With no road access to the lake, they look after everything once you park your car. You will have a beautiful scenic boat ride to Ellen Island in a 22' covered Stanley Pulsecraft. Once you are nicely settled into your Deluxe Lakefront Cottage they will set you up with your boat and motor and send you off with a map of the lake with some excellent fishing spots marked out. You will have ample opportunity to land plenty of Walleye, Northern Pike, and Small-mouth Bass. If you are more adventurous and would like to try some catch and release portage lakes you will get a motor to pack in, where you will find Lake trout, Pike and Bass in unbelievable numbers. The friendly staff will look after your every need once you arrive back at camp and have you ready to go each morning. If a shore lunch is what you enjoy there are numerous sites available for your cook outs.
Garden Island Lodge
Located on a 13 acre island on Lady Evelyn Lake. 9 private lakeview cabins sleeping between 2 and 6 people. Dining room is air conditioned in the main lodge building. Meals served are superb, are prepared on-site are all you can eat. Boats are 16.5 foot Lunds, 25 hp 4 stroke Yamahas, cushioned seats with lumbar support, live well with aerator, nav lights, Eagle fish finders, nets and cradles, unlimited gas and bait. Trophy fishing for walleye, northern pike, and smallmouth bass is amazing.
Red Pine Wilderness Lodge
Your wilderness fishing adventure begins the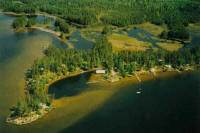 moment you arrive. Red Pine Wilderness Lodge, and its 8 guest cottages set amidst towering, fragrant red pine trees on a remote 7 acre island is the ideal place for your special remote fishing trip or wilderness family holiday. We are the Gateway to two huge parks: The Obabika Waterway Park and The Lady Evelyn/Smoothwater Wilderness Park. FISHING, FISHING, DID WE MENTION FISHING? The waters of Lady Evelyn Lake offer the serious angler Northeastern Ontario's finest Walleye (Pickerel), Great Northern Pike, Smallmouth Bass, Whitefish and Perch fishing. Don't forget about the 3 species of Trout that also call this area "home".